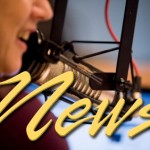 11 June 2013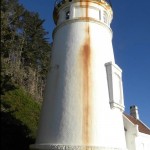 The light is on…
After a two-year closure and a $1.6-million renovation the Heceta Head Lighthouse now looks very much like it did when it first opened in 1894.
The historic structure, 12-miles north of Florence underwent a complete renovation since closing in August 2011.
A team of more than 100 subcontractors and craftspeople removed a layer of cement stucco that had trapped damaging moisture inside the brick walls; replaced and restored metalwork and masonry and installed new windows.  One window, bricked up many, many years ago was replaced, offering a view that has not been seen for decades.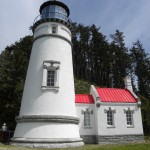 The lens' rotating mechanism was repaired, and the original wood floor of the workroom was uncovered and reconditioned as well.
A rededication ceremony was held at the light Saturday, June 8th.
Don Peting is a University of Oregon Professor Emeritus of Architecture.  He compared the Heceta Light to the Alexandria, Egypt lighthouse built more than 23-hundred years ago… he called the local light – quote – "elegant".
Read for the Need
A two-day book sale June 1st and 2nd raised about $7-thousand for the benefit of Florence Food Share.
It was the latest installment of the Taylor Graham Read for the Need.  The 15-year old, along with the help of family and friends, started the annual book sale when he was eight years old.
This year there were thousands of books, games and other items filling the Elementary School gymnasium.
The extra money comes at a good time for Florence Food Share.  Operations manager June Clingenpeel says food and cash donations are typically down at this time of year.  The $7-thousand will help fill empty shelves.
Dunes City Turns 50
50-years ago today voters in an unincorporated area around Siltcoos and Woahink Lakes overwhelmingly approved a charter for a new incorporated city and Dunes City was born.
217 of the 274 registered voters participated.  The next day the Lane County Commission confirmed the results.  Phil Himmel was selected in August to serve as the city's first mayor.
A half-century later, Dunes City's current Mayor, Rebecca Ruede, will host a potluck picnic at Dunes City Hall to celebrate.  Ruede says people are encouraged to wear 1963 era clothing as she and other city councilors open a city hall time capsule that was built into one wall of what was originally the Western Lane Sportsman's Association clubhouse.  Instructions with the time capsule direct that it should be opened on the city's 50th anniversary.
That party is coming up a week from Saturday, from noon until two pm on June 22nd.
Yard Debris
Residents of the entire area can participate in a yard debris disposal event in Florence this coming Saturday.  From nine am to two pm at the end of west 27th street, crews will be on hand to accept organic woody debris.
Florence Public Works spokesman Shawn Penrod says dumping fees range between ten and 20-dollars based on the size of the truck or trailer.  All loads must be tied, tarped or otherwise secured to prevent material from blowing out.
Yard debris dropoffs are set for the third Saturday of every month through November.