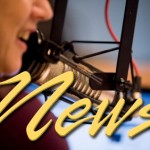 7 November 2014
Two Mapleton Students Die in Early Morning Crash
Two Mapleton High School students died, three others were injured early Thursday morning in a crash just east of Mapleton on Highway 126. The five were apparently on their way to a nearby restaurant to meet other students.
17-year old Abby Boydston and 16-year old Weston Bowman died at the scene. The names of the other three were not released.
News of the deaths had a profound impact in all grades at Mapleton where classes were suspended for the day.
Jodi O'Mara – "Today was a very hard day and, I think it will have a lasting impact. We are fortunate enough to have a wonderful support network."
Superintendent Jodi O'Mara said crisis teams from Siuslaw and Triangle Lake immediately responded to help out. There are no classes typically on Fridays and no classes are scheduled for Monday and Tuesday because of Veterans Day.
O'Mara said she's been moved by the outpouring of support.
Jodi O'Mara – "Right now we're really trying to support our kids. Kids are the most important thing to us and so we're really trying to support our students. We know you're out there and we appreciate everything everybody's doing and that your prayers are with us."
Highway 126 was closed several hours as police investigated the crash. No results have yet been released.
Earlier accounts that said a log truck may have been involved were in error. Coast Radio News regrets that error.
ODOT Seeking Public Health for 126 Safety
So far this year there have been ten deaths on Highway 126 between Florence and Eugene… more than twice the number of deaths recorded in the five years between 2009 and 2013.
That's an average, over the past six years, of one death every four months.
Oregon Department of Transportation Region 2 manager Sonny Chickering says that's "not acceptable" and he's asking for public assistance.
Following yesterday's double-fatal crash east of Mapleton Chickering says ODOT will underwrite extra enforcement patrols and take other steps to increase safety on that stretch of highway.
Public assistance consists of basic safety considerations such as obeying the speed limit, don't drive impaired and pay attention. He also urges drivers to be well rested before getting behind the wheel and always buckle up.
Beach Smoking Ban Plan Abandoned
Opposition to a proposed rule that would have banned smoking on Oregon beaches has prompted the Oregon Parks and Recreation Department to snuff out the proposal.
But, they may bring it back up in two years.
Parks spokesman Chris Havel says instead the department will begin an education campaign and then reevaluate it at a later date.
In addition to public health concerns about smoking, the agency had sought the ban because smokers often dispose of their cigarette butts on the beach, creating a hazard to wildlife and the environment.
Governor John Kitzhaber has directed state agencies to take steps to reduce the public's exposure to secondhand smoke. That prompted an earlier ban on smoking in most parts of state parks, including trails and picnic areas.
Oregon Elections Buck National Trend
The balance of power in the Oregon House and Senate shifted ever so slightly with Tuesday's election.
State Senator Arnie Roblan said Oregon definitely "bucked the trend" of a swing in state houses and governor's mansions to the GOP.
Democrats widened their margin of majority in the Oregon House, gaining one more seat, giving them a 35-to-25 edge over Republicans.
In the Senate, where Dems held a 16-14 majority in the last session, they gained one more seat as well… they now have a 17-13 advantage.
The 2015 Legislative Session begins in February.
Mushroom Hunters Urged to Go Prepared
The hills and forests of western Oregon are known for a bounty of fall mushrooms; but unfortunately, they're also known for lost mushroom hunters.
Every year, hikers searching for chanterelles and mining for morels get lost in the Coast Range. Most find their way out on their own, but many require assistance.
Fall hikers and mushroom hunters should always use a map to plan their trip; and familiarize themselves with the area. Go with a companion, and always dress appropriately for changing weather.
Veteran outdoorsmen say you should not only carry a map and compass… but know how to use them as well.