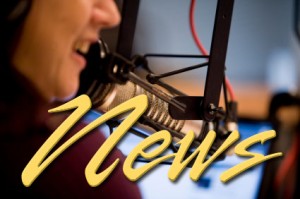 5 May 2015
Voters asked to approve vehicle registration fee
Lane County is asking voters this month to approve a $35-per-year vehicle registration fee. The fee would generate an estimated $11-million each year that would be split on a 60-40 basis with the 12 incorporated cities in Lane County. Approximately $6.5-million would go directly to the county's road fund. Lane County Commission Chair Jay Bozievich is asking for approval.
Jay Bozievich – "Voters should say yes because what we're looking for is a local solution to a local problem of road maintenance. That's also a regional solution, that'll be shared with the cities."
Bozievich says the county's share would be used only for making repairs and doing maintenance of roads and bridges.
Dunes City Councilor Ed Scarberry… who makes it clear he's speaking for himself… says he's going to vote no.
Ed Scarberry – "It's a permanent tax… excuse me… a fee."
Scarberry is opposed to the fee on a variety of fronts. While he didn't offer an alternative, he believes officials have not worked hard enough to find another source of money.
Ed Scarberry – "You know to me it's a permanent fix to maybe a temporary problem. We know the economy is down and budgets are down and the county has a lack of funds."
Bozievich and Scarberry will be on tomorrow afternoon's Our Town on KCST where they'll speak more in depth about their positions. Our Town airs on 106.9 from 4 to 6 PM.
A century of book lending in Florence
May 7th, 1915, the doors first opened in Florence on what would eventually become the Siuslaw Public Library. Library director Meg Spencer says much has changed in the past ten decades.
Meg Spencer – "We had a hundred items when we opened our doors in 1915. Now we have over 165-thousand items."
The original library was in borrowed space and was put together by an effort spearheaded by the local Women's Conservation League. It eventually moved into a permanent home behind what is now Coast Real Estate in 1936. And, for the first 50 years was a strictly volunteer led effort.
The City of Florence formally took over in 1965 and then 25 years later, voters in the area approved formation of the library district.
Spencer says a public open house is set for Thursday, 6 to 8 PM at the library… there'll be food, wine and photo opportunities with a giant library card.
Spencer, Adult Services Librarian Kevin Mittge and Library board member David Forsberg will talk more about the anniversary during Wednesday's May edition of KCST's Our Town.
Check both sides of your ballot
Most voters in Lane County should have received their ballots for the May 19th election.
Lane County Clerk Cheryl Betschart is reminding voters to flip that ballot over before putting it in the privacy envelope and sending it back. Depending on just where you live in Lane County, there may be ballot measures or more races on the reverse side. Once your ballot is returned, it can't be retrieved and amended.
Voters have until eight PM, Tuesday, May 19th to return their ballots. Betschart says if you haven't received one and you believe you should have, you can check the status of your registration online.
Tighter background check bill goes to governor for signature
Oregon Democrats have muscled through legislation expanding background checks to cover nearly every private firearm sale in the state.
House lawmakers passed a bill Monday making it illegal to transfer a gun to someone who isn't a close relative.  That is, unless the sale takes place in front of a licensed gun dealer who can run a background check.
The bill would make Oregon the eighth state with universal background checks. It goes to Democratic Gov. Kate Brown, who has indicated support. Advocates say no other states have passed such legislation this year.
Republicans have opposed the measure since it was introduced and hundreds of opponents flooded legislators with emails and calls urging them to vote against it.
But last year's election helped Democrats increase their majorities in both chambers, paving the way for the bill's passage.
Turn out for Police Chief meet and greet
Tom Turner was sworn in and formally introduced to the public last night as Florence's new Police Chief.
Later this afternoon area residents will be able to meet Turner and formally welcome him to Florence.
The former Lane County Sheriff and 33-year law enforcement veteran moved into his new office at the Florence Justice Center last Friday. He follows interim chief Lynn Lamm who has been in that role since January 2014.
Today's "meet and greet" is at the Florence Events Center from four to six pm.