Grant applications sought for newly formed foundation
One of the requirements of the agreement regulating operations of Three Rivers Casino is the establishment of a community foundation that will be used to channel money back into the community.  The operators of the casino, the Confederated Tribes of the Coos, Lower Umpqua and Siuslaw Indians established the Three Rivers Foundation recently.  It's headed by the tribal council vice-chair Mark Ingersoll.
Mark Ingersoll – "We have 90-thousand dollars set up for our first year. We're going to try to give that out in allotments of $5,000 or less." (click here to listen to quote)
Ingersoll says grant applications are available at the foundation's website.  Their primary area of focus will be the tribes' aboriginal area encompassing Curry, Coos and Lincoln Counties, as well as coastal portions of Lane and Douglas.
Mark Ingersoll – "Those are our, probably our focal point, but we're not excluding anybody in the state of Oregon. We're really looking to get this money spread out to folks and really help some people along the way." (click here to listen to quote)
The organization will accept grant applications through the end of this month, then Ingersoll says they'll distribute the first grants on or about the fifth of January.
Mark Ingersoll – "We hope to keep this foundation up for many, many, many, many years. We're really hoping that it continually grows so that we can support the community in a larger capacity." (click here to listen to quote)
More information can be found at threeriversfoundation.org.
National Test of Emergency Alert System
Tomorrow morning at around 11 o'clock Pacific Standard Time Oregonians will hear on their radios and see on the televisions an activation of the emergency alert system.  That in itself is not that unusual, there are weekly tests of the system.  But tomorrow's activation will be transmitted as if it's the real thing, and it will be broadcast nationwide.  The Federal Emergency Management Agency and the FCC say it's being done as a real activation in order to adequately test the equipment that is installed in every TV and Radio station in the country.   FEMA spokesman Damon Penn says "without a test, we're just hoping the system works as planned".  Residents are urged to be aware of the fact that despite announcements to the otherwise… it really is just a test.
Seat Belts Made a Difference in Monday Crash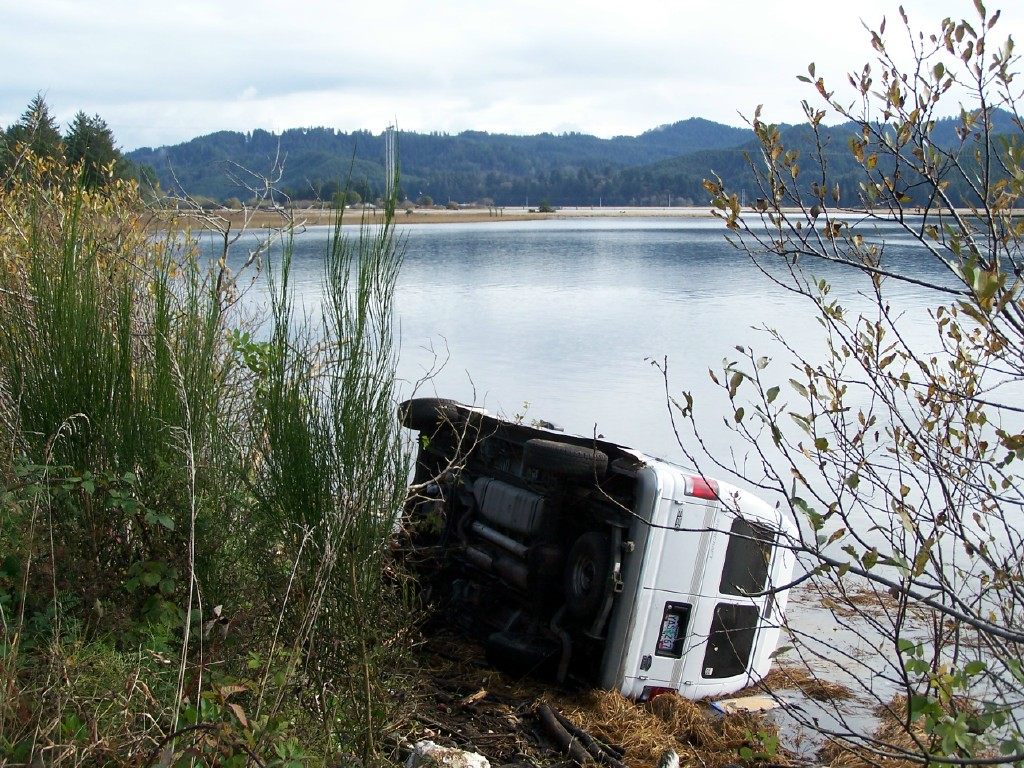 There were no serious injuries yesterday when a van left Highway 126 and ended up in the estuary just east of Florence.  But, say paramedics, it could have been worse.  72-year old Larry Little was eastbound at the Florence City Limits when he told police he had a coughing fit, blacked out causing the van he was driving to leave the roadway, ending up on its side in the water.  Neither he nor his wife, Elinor Little, were injured.  Western Lane Ambulance Paramedic Al Kreitz says the incident could have been much worse had the two not been wearing their seatbelts.
Police say Larry Little was transported to Peace Harbor Hospital as a precaution resulting from the coughing.  He ended up with an abrasion on one wrist… and a citation for 'failure to maintain' his lane of travel.