Date: 03/05/2013 10:29 AM
OR–3rd NewsMinute/338
Here is the latest Oregon news from The Associated Press
PORTLAND, Ore. (AP) – Trial has begun in federal court in Portland for an Oregon City man accused of trying to evade millions in state and federal taxes. Prosecutors say Chester Evans Davis made millions through a software company he no longer owns and has failed to file tax returns since 2000. The government believes he spent at least $5 million on gold bars and coins. About $1 million was found in a safe in a relative's barn. Davis told his court-appointed lawyer to put on no defense. He does not recognize the court's jurisdiction.
VANCOUVER, Wash. (AP) – A Pacific Northwest grain terminal that locked out its union workers last week has sued a union official it accuses of damaging company equipment. The union representing the longshore workers quickly condemned the lawsuit. United Grain Corp. accuses Todd Walker of Vancouver of causing more than $300,000 in damage. The Columbian says the lawsuit contends that last Dec. 22, Walker tried to halt production by throwing a pipe into a conveyer and damaged a gear box by pouring sand into it.
PORTLAND, Ore. (AP) – A bald eagle that had to be euthanized after it was hit on Interstate 84 in Portland is still in high demand. The Audubon Society veterinarian gave the body to the federal Fish and Wildlife Service. Special Agent Robert Romero told The Oregonian the frozen body will be shipped to the National Eagle Repository at Denver. The feathers and other body parts, such as talons, are distributed to Indian tribes for ceremonial purposes.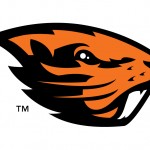 CORVALLIS, Ore. (AP) – Oregon State has unveiled a new Beaver logo as part of an overall rebranding effort with Nike. Oregon State's colors remain orange and black, but metallic bronze was added as an accent color. The rebranding includes new lettering and numbers. But the highlight is the Beaver logo, which is more stylized than its predecessor. All 17 of Oregon State's intercollegiate sports teams will wear uniforms with the new logos, lettering and numbers, starting next August.
Copyright 2013 The Associated Press.