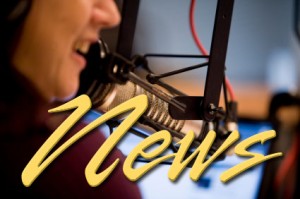 17 May 2013
Come See What We See… But Bring an Umbrella
Yes, the forecast says rain tomorrow… and a chance of showers Sunday… but that hasn't dampened the enthusiasm of organizers of the 106th Rhododendron Festival.
Chamber of Commerce Executive Director Cal Applebee says  he's confident the weather will cooperate… despite what forecasters are saying.  The National Weather Service is calling for rain tomorrow, turning to showers overnight Saturday and continuing into Sunday.  Other forecasters agree with Saturday's rain but are saying Sunday should be dry.
So, says Applebee, bring a coat, wear a hat, and enjoy everything the festival has to offer… this is, after all, Oregon.
Early Morning Outage Impacts Service
An early morning power outage left some portions of the Florence area… particularly in the north end of town… in the dark for a short time this morning.
One source said the problem appeared to be in one of the feeders to the substation north of Florence, but it had a ripple effect on other services.
Phone service was out of service at the Justice Center for a time but 911 was never affected.
Ballot Return Deadline Nearing
If you're going to mail your ballot for Tuesday's election, officials say today is the day if you don't want to risk having it arrive too late.
Ballots are due back no later than eight pm Tuesday, May 21st.  Post marks don't count.  County Clerk Cheryl Betschart says ballots must be in hand at her office by the deadline.
If you don't want to run the risk of having it arrive late, Beschart says there are nearly two-dozen drop box locations around Lane County including one in front of the Florence Justice Center just off 9th Street.
Voters are deciding a number of money measures, including a Lane County jail levy and extension of local option levies in the Mapleton Fire and Siuslaw School Districts.
Come See What We See
The Davis Northwest Carnival has been running since Wednesday evening… this marks the 61st consecutive year the Davis family has operated rides, games and concessions for the festival.
That's not the only activity geared towards kids this weekend.
The annual Firefighters Junior Parade begins forming at Miller Park at 11 tomorrow.  Organizers say there's no pre-registration required.  The parade will leave the park at noon and head north on Oak Street past the schools and ending at the high school.
That's where Kiwanis Club members will be offering free games and prizes to kids from 12:15 to about 1:30.
The 106th Festival is not all about kids though…
The Rhododendron Society Show at the Events Center will begin accepting entries at seven… it opens to the public at one pm.
The Rod and Gun Club on Munsel Lake Road is offering the gun show again.  There are multiple activities at the Elks Lodge including the pie sale and chicken barbecue on Saturday; then the Past Exalted Rulers' breakfast from 7 to 11 Sunday.
Some of the weekend's events revolve around motorized vehicles.  A motorcycle show at three Rivers Casino will offer some classic two-wheelers on display from noon to four tomorrow.
The Beachcomber's Car Club Show and Shine is set for ten to four at the Grocery Outlet Parking Lot.  You can get an early glimpse at some of the entries from three to six today during their pre-registration show.
Many of those cars will cruise through Historic Old Town Florence from 6:30 to eight pm for the Coast Radio Classic Car Cruise.