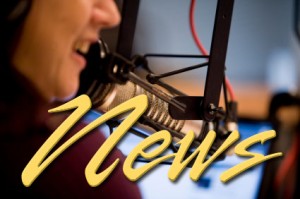 27 May 2013
Remembering Those Who Sacrificed
It is Memorial Day and unfortunately, it's likely that most people can speak of at least one friend, relative or acquaintance that has lost a loved one while serving in the armed forces.  Some can list many names.
One of those names familiar to Florence area residents… 22-year old Army Specialist Brice Scott of Eugene… who actually called Florence home… was killed in an ambush in Afghanistan.
He left behind a young wife and two daughters.
Scott received a posthumous Bronze Star for his actions and was laid to rest in a local cemetery August 10th, 2011.
11 AM Memorial Cancelled; Museum Observance to be held.
Leaders of the local American Legion Post have cancelled today's scheduled 11 AM service at Veteran's Memorial Park on Bay Street.
Steve Olienyk and Mike Bones said the weather prompted the cancellation.
The observance planned for the Oregon Coast Military Heritage Museum at one this afternoon will go on as planned.  World War II veteran Harley Youngblood will talk about his recently completed trip on the "Honor Flight", provided by a group with the aim of making sure as many veterans of that war as possible can get to the World War II Memorial in Washington DC.
Tours of the nearly completed structure will be provided as well.
Finding a "New Normal"
More than 150 U.S. service members from Oregon have died in the wars in Iraq and Afghanistan.  For their families, that means someone important won't be at this summer's graduation or wedding.
Learning to deal with that grief can be difficult for children of those fallen service members says Ami Neiberger-Miller.
"Children are a lot like adults; they will often compartmentalize or hide their grief from other people in the family.  Just because they don't want to upset those people or remind those people of the loss, too.  Knowing these different coping skills is really helpful for them."
Nieberger-Miller is a spokesperson for the Tragedy Assistance Program for Survivors… or TAPS.  The group runs what's known as "Good Grief Camp".  It matches kids who have lost parents with active-duty military volunteers.  It starts with a weekend camp in Arlington, Virginia, but she says, the volunteers stay in touch with the kids. She said it can take between five and seven years for a family that has suffered a traumatic loss to create a "new normal" in their lives… and the need for support from friends and the community never goes away. (Information and audio provided by Oregon News Service)