13 June 2013
Flag Day Observance in Florence
Several hundred flags will go up in flames tomorrow night in Florence.
It's not a protest.
It's a show of respect for flags that are now too worn, tattered or frayed to be properly displayed according to American Legion Post Commander Mike Bones.
Mike Bones – "They served their purpose well and so we want to show respect to them."
Legionnaires have constructed three fire pits on a vacant lot across Bay Street from Veteran's Memorial Park.  Bones said they have already collected several hundred worn flags for retirement and will happily accept more.
Mike Bones – "We'll be here starting at 3:00 Friday afternoon.  The ceremony actually starts at 5:00 and we'll go until we have them all retired."
The Florence observance is one of the few public retirement ceremonies in the state.  Tomorrow will mark the seventh annual event.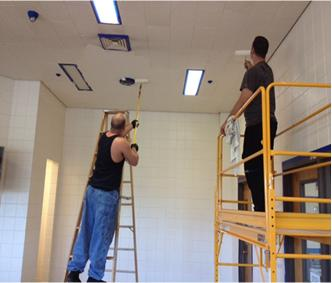 Jail Opening Additional Beds
Lane County Sheriff Tom Turner has already called 14 laid off deputies back to work at the jail.  Another 18 new corrections officers will be recruited and hired over the next few weeks, along with another half dozen support positions.
They're funded by a five-year $79-million local option tax levy approved last month by Lane County voters.
The Sheriff's office is reporting that 35 additional jail beds will be ready to go by July 1st, with another 96 to be available a week later.  That will bring the total capacity available at the jail to 235, still less than half of the facility's physical capacity.
The agency is keeping costs down by using inmate labor to clean and paint the closed housing areas.
Turner says the reopened jail beds won't completely eliminate early releases that have become normal over the past several years, but, will allow the jail to hold more violent offenders awaiting trial.
2nd Graders on the Sand
More than a hundred 2nd graders, guided by teachers, aides and parent volunteers, charged up the rolling slopes of the Oregon Dunes National Recreation Area one day last week for learning and exploration.
The trip was organized by Siuslaw Elementary teacher Gerry Fleming in cooperation with U.S. Forest Service personnel.  It was the fourth year in a row that students learned about the dunes and the unique elemental forces that continually shape the landscape.
A series of 'hands-on' experiments were used to teach the kids about dunal geology and the impact of European Beachgrass.  They identified wildlife tracks in the sand; learned about endangered Western Snowy Plovers and even watched a bald eagle soar overhead.
Fleming said for many students it was the first in-depth experience on the sand.  It will "be remembered as one of the highlights of their school year".