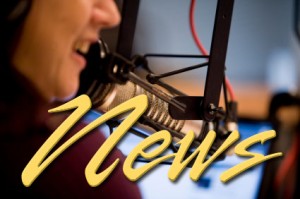 21 June 2013
A New Option for Disaster Preparedness Training
Monthly classes aimed at helping area residents get ready for a possible disaster have been successful in spreading the word.  Joan Edwards, the outreach specialist for the West Lane Emergency Operations Group, says they've doubled attendance at the Saturday morning sessions in the past year.  Where they usually had about 25 people for the three hour classes… now they consistently have about 50 and at times they've had over 100.
But, she said, very few of those coming to hear about how to create an emergency plan; where tsunami inundation zones are and how to survive after a disaster are in the 20 to 40 year old age group.
Edwards says she believes the schedule may have something to do with it.  That's why she's offering two one-hour "drop in" sessions next week; sort of "mini-preparedness" seminars.  They'll both have the same content… one will be in the noon hour, the other from 6:30 to 7:30… Thursday afternoon at Siuslaw Valley Fire and Rescue.  The monthly Saturday sessions will continue to be offered.
Vendors to take over Harbor Street Parking Lot

An "in-water" boat show will allow prospective boat owners a chance to see and feel what it will be like to be on the water this weekend.
The Port of Siuslaw has closed off the Harbor Street Parking Lot for the weekend and will be hosting a big party.  Port manager Bob Forsythe says access to the lot will be essentially free with one exception.
Bob Forsythe – "There's a three-dollar fee to get into the 'in the water' boat show; where they're actually showing the boats, climbing on the boats, go for a ride on the boats if you're serious, that kind of thing.  But we have a static shows to see, vendors, we have some food and then we have a barbecue going on that's going to support the fireworks."
Forsythe said in addition to that barbecue there will be a display of emergency equipment.
Dunes City Celebration
Some time around midday tomorrow Dunes City Mayor Rebecca Ruede is expected to open up a box that has been sealed for a long time.  It's a time capsule, built into one wall in Dunes City Hall, with the instructions that it be opened on the occasion of the city's 50th anniversary.
That time has come and Ruede will open it tomorrow afternoon.
She won't be alone though.
The rest of the Dunes City Council, staff, longtime residents, other dignitaries and the public have been invited to watch.
Ruede is encouraging everyone to dress up in early '60s' attire and bring something to share for a pot luck lunch… the city will provide hamburgers and hot dogs for the opening.
Devil's Staircase
The U.S. Senate has gone "wild" over a pristine stretch of forest along the central Oregon coast.
The proposed Devil's Staircase Wilderness area… east of Reedsport and between the Umpqua and Smith Rivers… was approved by the Senate this week.  It now heads to the House of Representatives for action.
The Devil's Staircase bill would designate about 30-thousand acres in the Siuslaw National Forest and the Bureau of Land Management's Coos District as wilderness and protects about 14 miles of Wasson and Franklin Creeks.  The staircase is a natural feature on one of the streams that is in what has been called one of the finest old-growth forests remaining in Oregon's Coast Range.