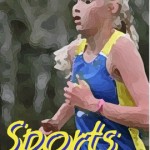 Siuslaw Sweeps FWL Cross Country
Siuslaw's Mitchell Butler ran a personal best 15:19 and the fastest ever on the course at Tugman State Park to capture the individual title at the Far West Cross Country district meet yesterday.  Butler lead teammates Mack Marbas; who was one second behind; and Seth Campbell and the Vikings finished one-two-three to capture the team title.  Marshfield was close behind in second place by a margin of 42-to-33 points.  Randall Greenburg and Jonathon Griffes aided the Siuslaw effort; finishing in 11th and 16th respectively.  The Vikings had two more finishers in the top 25… Kaleb Owens at 21; Derek Kennedy at 23.
For the Girls, Marshfield Senior Shaylen Crook ran away with the individual district title in 18:01; but six Siuslaw scorers finished in the top ten to pace the Vikings to the League championship.  Celie Mans was in 2nd at 18:53; Katelyn Wells was fourth, Sierra Potter in sixth, followed immediately by Mikaela Siegel, Courtney King, and Kennedy Pendergrass.  Elizabeth Wartnik, the Vikings' number seven runner was 21st.  North Bend was second in the team competition.
Mountain West Volleyball tournament at Junction City High School
The Mapleton Sailors are on the court in Junction City tomorrow morning at 11:00 for a Mountain West League Volleyball playoff against McKenzie.  The winner is assured of a spot in the OSAA playoffs and will face league champion Lowell at 3:30 for seeding in the post-season.  The loser will face Crow or Triangle Lake at 2:00.
Prep Football
The Far West League Football crown is on the line this evening in North Bend as the Siuslaw Vikings and the North Bend Bulldogs clash on the gridiron at Vic Adams Field in North Bend.  The Pregame show on Coast Radio Sports is set for 6:45.
Reedsport will host Glide; Mapleton will host Siletz Valley.
Four top 25 teams, two venues, Pac-12 Football
In the Pac-12… ESPN's Game Day will be in Eugene again tomorrow morning in anticipation of #2 Oregon's meeting with #12 UCLA at 4:00.  The pregame show on 106.9 KCST is set for 2:30.  #8 Stanford will be in Corvallis against #25 Oregon State.  Kickoff is at 7:30… the pregame on KCFM is at 6:30.