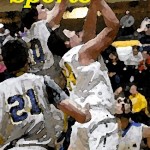 On the basketball court… for the girls.  The Lady Vikings fell to the North Eugene Highlanders Friday night 47 – 45.
The Viking Boys fell to Wilsonville Saturday afternoon 75 – 32.
In the Mountain West League, the Lowell Devils beat the Mapleton girls 65 – 21.  in the boys game, it was Lowell 61; Mapleton 43.
At the 42nd annual Dunes Country Classic basketball tournament in Reedsport, Days Creek won the boys and girls titles.  The Lady Wolves downed Reedsport 42-35 for the girls crown.  The Braves made it to the championship game with a 60-20 win Friday over Waldport.  The Reedsport boys dropped both their games in the tourney, 49-44 Friday to Powers; then fell 41-35 to Waldport.
On the college court… Jason Calliste scored a career high 31 points and the number 13 Oregon Ducks remain unbeaten after a 100-96 overtime win over Brigham Young Saturday in Eugene.  Joseph Young added 25 for the Ducks.
In Honolulu, Oregon State fell to the Akron Zips 83-71.  It was the first loss ever for the Beavers when President Obama has been in the crowd.  The Beavers are up this morning at 11;30 against George Mason in day two of the Diamond Head Classic.
>>>