13 May 2014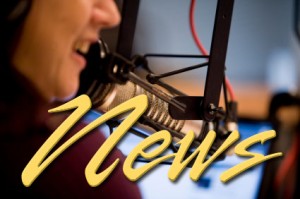 Course Changes Are Fine for Triathletes
Changes to the course were greeted with enthusiasm by the 205 entrants at the 2nd annual Oregon Dunes Triathlon Saturday morning.
Bradley Pigag (pe-AHJ) of North Bend won the signature event, swimming the nine-tenths of a mile, biking 40-miles, and running 6.6-miles in a time of two-hours; 16-minutes and three-seconds.
Leia Tyrrell of Corvallis was the first woman across the line in that event in two-hours; 43-minutes and 43-seconds.
The Sprint Triathlon is approximately half the distance… Marco Ramirez of Forest Grove was the first finisher there with time of one-hour; one-minute; 44-seconds. Megan Banks of Eugene was the first woman across the line in one-hour; 19-minutes; six-seconds.
Dunes City Administrator Fred Hilden noted plenty of friendly competition between entrants; especially a group of runners from Corvallis… and another from Eugene.
Fred Hilden – "And the other thing that was resounding that I heard from everybody, including all of the OSU and U of O participants, was that they really loved the course, the changes to the course that were made this year were a big improvement."
Refinements were made to the 'transition' from swimming to biking and about half of the running route was redone. Hilden said plans are already under way for Mother's Day weekend 2015 and the third running.
Help Needed Picking Up After Parade Entries
Nearly all the entries for this Sunday's Grand Floral Parade have been received and the parade order pretty well set. But, says Chamber Executive and Rhody Festival Coordinator Cal Applebee, there is still a need.
Cal Applebee – "We need pooper scoopers. We have over 45 horses entered in our parade this year. We're only about half way there yet on kids signing up for pooper scoopers."
The theme… "Not Our First Rhody-Oh!"… with its western emphasis has drawn more equestrian entries than in the past.
Applebee says there is also a need for banner-carriers.
Both get a free arm-band at the Davis Carnival Sunday after the parade for their troubles. Parents can sign their kids up at the Chamber Visitor Center on Highway 101.
Foulweather Finding a Home in Florence
It started life on the seas as a steel-hulled commercial fishing vessel in 1966, but Ron Deronden recently completed a conversion of the Cape Foulweather to a replica three-masted sailing barque.
The Foulweather arrived on the Siuslaw River last Wednesday evening. Since then it's been moored at the transient dock at the Port of Siuslaw.
Port of Siuslaw Manager Bob Forsythe says the vessel may make a permanent home here in Florence. The owner told him he hopes to use it as a static venue for things like weddings and parties.