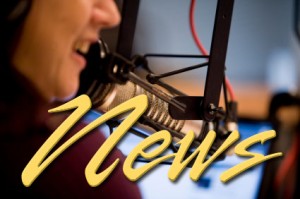 14 January 2015
Search for City Manager goes within
Florence's Finance Director, Erin Reynolds, has emerged as the probable next City Manager. Reynolds was interviewed by the full City Council last night. She spent an hour and 15 minutes answering questions and presenting thoughts about her ability to step up to the next level of leadership.
Reynolds has drawn high reviews and praise in the 3 ½ years she's held her current job. She and her family have come to love Florence, she said, since moving from the Willamette Valley in 2011. A Certified Public Accountant, Reynolds told councilors she feels ready to move to the next step in government service by being a City Manager. But, she stressed, she wants to be Florence City Manager.
The council moved last night to offer her the job and directed temporary City Manager Larry Patterson to negotiate a contract. Reynolds would succeed her former boss, Jacque Betz, who was earning just over $115-thousand a year when she left in June. As Finance Director Reynolds earns $85-thousand. The target date to begin in her position will be March 1st. Among her first tasks as City Manager: hiring a police chief and her own replacement as Finance Director.
Pies, pies, pies…. Oh, and folk music.
The 13th annual Florence Winter Folk Festival will get underway tomorrow when singer-songwriters Mike and Carleen McCornack present two "Kids Koncerts" for area elementary students at the Florence Events Center.
There will be three performances Friday night… Kathy Boyd and Phoenix Rising will be at the Elks Lodge and Deborah Henriksson will be at Spice. A jam session at the Pier Point Inn will punctuate the weekend.
Eight other acts will be on stage at the Florence Events Center Saturday and Sunday, along with Grammy Award winning singer-songwriter Tom Paxton Saturday night.
More than 30 vendors will be offering their wares at the FEC Saturday and Sunday in and amongst the music.
The ever-popular pie baking contest, followed by the pie-by-the-slice sale will take place Saturday. Pies must be at the center no later than ten AM Saturday… they go on sale at 1:30 that afternoon.
Average Cash Price Continues to Fall
Cash prices for regular gasoline in Florence are moving ever-closer to that two-dollar mark. Two stations in Florence had prices of $2.09 a gallon posted as of this morning. There are some limitations… that is for cash or debit card only.
Drivers in Florence are paying an average cash price of $2.23 a gallon this week. That's 93-cents a gallon less than the average in mid-January 2014. It's also 11 cents less than last week's average price.
According to Triple-A, the national average price is $2.12 a gallon… Oregon's statewide average price is $2.34.
Future Florence First Citizen Nominees
Five Siuslaw High School Seniors have been nominated for the title of Florence's Future First Citizen. One will be announced as the winner of that title during the Siuslaw Awards Dinner Wednesday, January 21st at the Florence Events Center.
Jonathon Griffes. David Johnston, Lyndsay Keppol, Courtney King, and Emily Rosinbaum were nominated by staff at Siuslaw High School.
Children's Theater Group Has Something to C.R.O.W. About
Melanie Heard thinks it's something to crow about… the artistic director of the non-profit Children's Repertory Oregon Workshop… commonly known as C.R.O.W., says the group is beginning a push to purchase a building that would serve as a permanent performing arts facility for kids.
Heard will host an informational meeting about the project Saturday, from four to six pm at Siuslaw Public Library. The group is also planning on hosting a fund-raiser Friday, February 13th to get them started on the road to their goal of $280-thousand.
PeaceHealth Peace Harbor Participating in Shared Savings
Medicare patients in the Florence area are now able to participate in a program aimed at improving care and reducing health care costs. The Centers for Medicare and Medicaid Services recently announced Peace Harbor Medical Center is one of 89 health care organizations that will participate in the Medicare Shared Savings Program.
PeaceHealth is one of 89 new "Accountable Health Organizations" bringing the total number of ACOs nationwide to 405.
Under the program, the focus is to provide the highest level of care and coordinate that care with all providers in order to reduce duplications.
During the first two years of the program in other areas, CMS has been able to save $417-million while improving overall care.