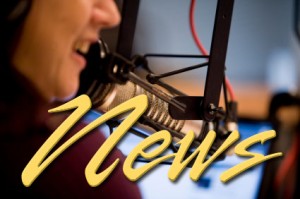 18 March 2015

Sheriff offered top cop job in Florence
Lane County Sheriff Tom Turner will likely be moving to Florence by May 1st.
He's been offered the job as the police chief on the condition of a successful background check and the execution of an "acceptable employment contract".
Florence City Manager Erin Reynolds said "it was evident from the interviews that Mr. Turner sincerely cares about our community and our department". She said the caliber of his professional references is – quote – "amazing" and he has relationships established throughout the region and will be a real asset to the Florence community.
Turner began his law enforcement career in the Florence area as a resident deputy with the Lane County Sheriff's Department more than 30-years ago. He spent most of his professional law enforcement career with the City of Eugene.
Former Florence Chief Ray Gutierrez retired December 31st 2013. Another former chief, Lynn Lamm, who retired eight years ago, has been serving as interim chief since that time.
Harbor Vista park expansion prompting possible sewer connection
A proposed minor expansion of Harbor Vista Campground on Rhododendron Drive, along with an aging septic system at the Lane County owned facility, could spur connection to the City of Florence waste water treatment system.
Senior Parks Analyst Dave Stockdale, with Lane County, said there's no formal agreement yet… but things "are in process".
He said the current septic system at the park serves the 38 existing sites, restrooms, caretaker residence and an RV dump station. The system works properly, but during periods of high usage, a foul odor can come from vents.
Replacing the entire system would cost about $250-thousand… roughly the same amount it would cost to connect to the city.
The 14.2 acre campground and day-use area is within the city's Urban Growth Boundary and within a few hundred feet of the pressurized main that was installed five years ago. That's when service was extended to Driftwood Shores. In order to connect it would need to be annexed. But Stockdale stressed it would remain a Lane County Park. Pending final agreements, work could begin next fall.
Japanese tsunami debris to continue coming ashore
Four years after a deadly earthquake and tsunami struck Japan, debris is still washing ashore in Oregon and southwest Washington. Scientists predict it will continue to arrive for at least the next three years.
An estimated one-million tons of tsunami debris is still floating in the Pacific.
The first pieces of debris to float across the Pacific landed quickly… within a year. They were lighter and more subject to being propelled by winds. Heavier items followed soon after.
Pipe bomb, probable suicide, close Highway 101 Tuesday
A 46-year old North Bend man died yesterday after he apparently ignited a pipe bomb inside his car after being stopped by police. The incident prompted the closure of Highway 101 in northern Coos County for about four hours yesterday. Traffic was able to be rerouted around the site.
According to police, Daniel Perry had recently been evicted from his home and was being served with a restraining order preventing contact with his ex-wife. Police attempted to stop him on Highway 101 near the Riley Ranch Campground four miles south of Lakeside. Officers say he rolled up his window, it filled with smoke and eventually burst into flames. They backed away when they heard explosions from within the vehicle.
The Oregon State Police bomb squad from Medford responded.
Gas prices steady in Florence; drop elsewhere
The national and statewide average prices for gas have backed off their year-to-date highs, but locally the average remains where it has been the last two weeks.
Today's average cash price in Florence remains at $2.86 a gallon.
Marie Dodds with Triple-A says the statewide average dropped from $2.88 to $2.85 this week. She added the national average has fallen for ten days straight; it too declined by three cents a gallon. It's at $2.42.
Dodds said the West Coast is still "recovering from localized refinery issues" and remains the most expensive region in the country for retail gasoline. California has the highest average of all 50-states at $3.35 a gallon. Hawaii is number two at $3.14. Oregon's average price is fifth highest in the nation.