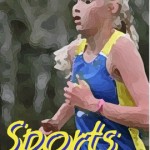 5 May 2015
Athlete of the Week hurdles the competition
Siuslaw Track and Field standout Mikaela Siegel is Coast Radio Sports' Athlete of the Week. The junior hurdler and long jumper finished second in the Varsity class at the Grants Pass Rotary Invitational in the long jump with her longest leap of the year, 16-feet, one-and-three-quarters-inch. She also finished third in the 100-meter hurdles with a time of 15.84 seconds.
Honorable Mention is given to Kaylee Graham, the Viking freshman ran her best time ever in the Frosh-Soph division of the 300-meter hurdles at Grants Pass with a time of 51.79 seconds. She was fourth in the 100 meter hurdles and was also thrust unexpectedly into the four-by-100 and four-by-400 relays, helping the latter to a third place finish.
On the diamond:
Oregon and Oregon State are in Corvallis today for non-league baseball at five. You can hear the game on KCFM with airtime set for 4:30.
Viking Baseball is at home against the Marshfield Pirates at five… that game airs on KCST beginning at 4:45.
Viking Softball is in Coos Bay at five where they'll take on the Marshfield Pirates.