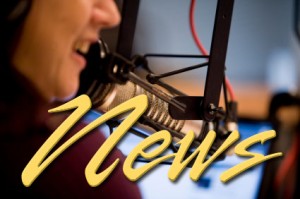 12 November 2015

Hundreds turn out under sunny skies to watch annual parade

Florence celebrated those who have served in the armed forces yesterday during the annual Veterans Day Parade.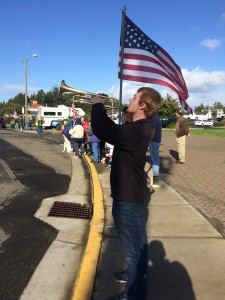 The last rain shower came about an hour before parade time and by one o'clock, the sun was out and hundreds of people lined the streets through Old Town Florence.
As the first parade entry came into sight, 19-year old Asa Puckett from Little Rock, Arkansas began to play taps.
Puckett, one of four trumpet players along the 15-block route was playing in honor and memory of veterans who have passed.
As he finished playing, the entry composed of dozens of Viet Nam era Vets passed in review, followed by the Eugene Highlanders.
Then, more than 40 different entries, including a large contingent of Boy Scouts, Cub Scouts, Girls Scouts, and Brownies passed carrying signs of thanks to those who served.
 Chamber Exec announces retirement
The Executive Director of the Florence Area Chamber of Commerce is stepping down soon. After about four years on the job supervising things like the Rhododendron Festival, Rods and Rhodies, and the annual Fourth of July fireworks display, Cal Applebee says he's going to be retiring in February.
Chamber Board of Directors President Jenna Bartlett said Applebee has "contributed immensely to the stabilization and growth of the Chamber".
Bartlett said a selection committee has been formed to search for a replacement.
Fees reduce for after school program
Parents and guardians will see drastically reduced fees for their children to participate in after school programs with the Boys and Girls Club.
Chuck Trent says effective December 1st, the $100 per month fee will be cut to just 25-dollars. That's a direct result of a nearly $200-thousand donation to the club from John and Patricia Hardison.
Trent says that will ease the burden on many families that may have struggled with the higher fee. He added it will likely increase participation.
Club directors were forced to impose the monthly fee earlier this year during a financial crisis. Prior to that there was a $25-annual fee. Directors say the monthly fee will remain in place, but it will stay at the lower rate.
RAIN to shower business information on startups
A two-hour training session aimed at helping new businesses will be offered this afternoon from four to six at the Florence Events Center.
Caroline Cummings, with RAIN, the Regional Accelerator and Innovation Network, says two main topics covered in today's session will be common mistakes made by startup businesses and how to write a one-page business plan.
RAIN is a government funded private non-profit group with the mission of aiding economic development in Oregon. The group is working closely with City of Florence officials.
This afternoon's session is free, but businesses are encouraged to register online at the City of Florence website.
Commercial Dungeness Crab Season on track
Things are looking good for the start of the commercial Dungeness Crab season in Oregon.
It's set to start December First and pre-season testing of meat quality has provided good results.
Additional testing for Domoic Acid, a naturally occurring toxin that can cause death when eaten by humans, will continue after California officials said not to eat crab caught in that state's waters.
A similar advisory was posted for crab caught between Cape Arago and the Oregon-California border. It stopped short of saying to not eat the crab, but instead make sure that it was cleaned thoroughly.
The Oregon Department of Agriculture will continue toxin testing.