Snow closes classes while coating the coast                               
White blankets much of the central Oregon Coast as the National Weather Service post a winter weather advisory through noon. Up to an inch snow, promoting closures include the Siuslaw, Mapleton and
Coquille School Districts.  Mapleton schools have canceled all evening activities.  Also closed today are ABC Preschool and the Wildflower Montessori School, and Head Start.  L-COG has closed their offices and their meals on wheels programs and dining room 60.  Lane Community has closed all campuses including Florence.  The State of Oregon has closed all offices in Douglas and Coos Counties.  Florence Habitat for Humanity has closed their Habitat Restore in Florence and asks all volunteers to remain home for a snow day. The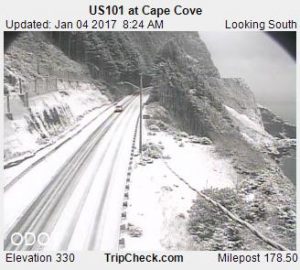 Florence Step program has canceled this evening's meeting.
Pictures courtesy of the Oregon Department of Transportation
webcams at Cushman Railroad Underpass on Highway 126
And Highway 101 Cape Cove
>>>>
With the snow and icy weather the state has been experiencing, the Red Cross has issued a list of precautions you can take to remain warm and safe. The remind you to use portable space heaters with an automatic shut-off so if they're tipped over they will shut off.  Keep at least three feet of space between the heater and combustibles such as furniture, curtains, bedding and papers.
Using a fireplace or a woodstove, make sure clear the area around the hearth of debris, decorations and flammable materials. Store kindling, fire logs and wood at least three feet from any heat source.   Use proper fire starters, such as newspaper, kindling or specially manufactured starters designed for indoor use. Never use flammable liquid, such as lighter fluid, kerosene or gasoline to start a fire.
Also bring your pets indoors. If they can't come inside, make sure they have enough shelter to keep them warm and that they can get to water that is not frozen.
For more safety tips go online to RED CROSS BLOG DOT ORG
>>>
Travelers using the Eugene Airport should be able to get to their gates quicker on the way out of town; and find their luggage faster once they've returned.
Airport managers rolled out the improvements this week made in the $19-million renovation project that was completed in two different phases. Airport Director Tim Doll says wait times to get through security during the busiest times of the day should be cut from 45 minutes to about 15.  He also says a larger and more comfortable area has been added inside security for people to put their shoes back on, replace belts and repack anything that has been opened during the screening process.
Also added are two new baggage carousels, new escalators and elevators.
The work also included remodeling of about 20-thousand square feet of existing space and adding another 13-thousand.
>>>
Still have that dried out Christmas tree hanging around? The Oregon Coast Anglers are once again coordinating with the Oregon Department of Fish and Wildlife for the placement of used Christmas Trees in lower Umpqua basin tributary streams during the month of February.  These trees become part of a major effort to improve salmon and trout habitat and to restore Umpqua River tributaries wild fish breeding waters.   Used Christmas Trees can be donated by placing them in the southwest corner of the Reedsport Les Schwab Tire Store parking lot.  Trees must be clean of decorations, no spray-on snow or leftover tinsel.  These items harm fish and wildlife.
The Christmas Trees are added to the large trees to further slow the water and provide cover for small salmon and trout. Over time the trees decay and add woody debris to replenish nature's ecosystem. Local high school students join OCA volunteers and ODFW biologists in placing the trees in streams weaving the trees together to reducing tumbling currents into productive streamflow.
>>>>