Monday, June 24, 2013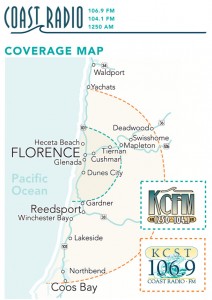 Final steps in Water PUD creation…
Lane County Commissioners will likely take steps tomorrow to formally create a new government entity.  Voters in May approved formation of the Heceta Water PUD by a more than three-to-one margin.
The new agency won't mean an increase in government… It will assume ownership of all the distribution lines, treatment and pumping facilities and other assets owned by the Heceta Water District.  It also assumes all of that agencies debt and liabilities.
Petitioners were successful in convincing the County Board last fall to refer the matter to voters who wanted to transfer the assets and operations of the Heceta Water district to the new PUD as a means of protecting the district from further encroachment by the city of Florence.
Under the "district" form, as the city annexed Heceta Water territory, it would cause not only a loss of water customers, but would also shrink the district's tax base.
As a PUD, Heceta would essentially be on the same level of authority as the city and would not have to yield territory or customers.
Florence  could still annex, but existing Heceta customers would also remain that way.
***
A Florence man will spend 27-months in jail after he was convicted for a series of break-ins and thefts from vehicles in Florence earlier this year.
39-year old Ryan Aho pled guilty to 5 counts of burglary and 2 counts of unlawful entry into a motor vehicle.  He's scheduled for release from the Oregon prison system in September 2015.
Aho was arrested last month as the result of an investigation into the April burglaries at several Florence businesses. 
Police lieutenant John Pitcher said they weren't Aho's first brushes with the law, but neither do the convictions make him subject to the tougher sentencing guidelines of Measure 11. 
His arrest, though, did have an immediate impact in reducing property crime in the city. 
But, proving there is always someone willing to take up the slack, he said there has been another rash of thefts in the past two weeks… Keeping officers busy.
***
The Florence planning commission will take up the final plan approval for the Cannery Station development on Highway 101 north near Munsel Lake Road once again this week.  They're not expected to take final action however as a special meeting has already been scheduled for next month.  The planning commission meets tomorrow evening, seven PM, at City Hall.
***
A high school coach and teacher from Bend is credited with helping four teenagers who were being carried away by a rip current north of Newport over the weekend.
Newport firefighters were dispatched Saturday afternoon to a reported water rescue near Beverly Beach.  When they arrived, though, everyone was safe and out of the water.
Nathan Neil, a wrestling and football coach at Bend's Summit Hi School grabbed a body board and dove into the surf twice, each time leading two of the teens to safety.