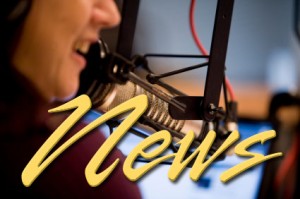 6 August 2013
Local Fight Against Cancer Takes Center Stage
Ever since the first Florence Relay for Live more than a decade ago, the local version of the American Cancer Society fundraiser has been an over-achiever.
Early relays were consistently recognized by the ACS for raising more money, on a per-capita basis, than most others west of the Rocky Mountains.
What continues to drive involvement and donations at such a high level?
One way of gauging that is by evaluating the personal connection to cancer.  Many of those who get involved do so because someone close to them… such as a spouse… have fought the disease.
This year's co-chairs of the Florence Relay are an example of that connection.   Both Steve and Karen Earnshaw are cancer survivors… Steve for the past three years; Karen for the last 20.
Both Earnshaws will be on KCST's Our Town tomorrow afternoon to talk about their connection to cancer and the local Relay for Life set to start this Friday at noon.
Our Town airs on 106.9 from four to six pm tomorrow.
No Power?  No Dining.
Have you given any real thought to what you would eat if there was a widespread disaster that interrupted regular supplies to the area and even left us without electricity for an extended period of time.
Sure, you may have a pantry filled with canned food, but what good is that if you only have an electric can opener?
Every month for the past four years the West Lane Emergency Operations Group has presented a three-hour training session aimed at helping more and more residents prepare for "the big one".  The monthly classes provide training on things like emergency first aid; how to provide safe drinking water; and even how to begin the recovery process.
This month, there are two classes… both intending to help residents deal with a lack of electricity.
The monthly "Living on Shaky Ground" sessions will be Friday evening and Saturday morning at the Main Fire Station… There's no cost to attend, but you'll need to pre-register by calling the fire station.
Shark Week in Newport
A variety of programs next week at the Oregon Coast Aquarium in Newport will shine some light on some of the fiercest marine predators.
It's Shark Conservation Week from August 10th through the 11th.
National Geographic Kids author Ruth Musgrave will talk about her book Everything Sharks; Central Oregon Community College Aquarium Science Program Director Chris Spaulding will present a program about the Flying Great White Sharks of South Africa; and two art projects featuring artists Michael Cole and Ron Houchens will focus on the predators.
The Aquarium Theater will be 'swimming' with shark-related activities for kids three to ten every day and the aquarium's SCUBA divers will provide a unique look inside the Passages of the Deep Open Sea exhibit.
All of the Shark Conservation Week activities are included in the regular admission the aquarium.  More details, including specific event times, can be found at the facility's website… www-dot-aquarium-org.