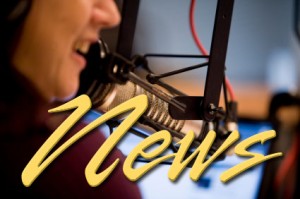 5 September 2013
Free Speech Plaza Closed – New Rules in the Works
Lane County Commissioners voted 4-1 yesterday to clear the Wayne Morse Free Speech Plaza in front of the courthouse in Eugene and close it for a week so that it can be cleaned up.  After that, a new set of rules will go into effect, closing the space between 11 PM and 6 AM daily.
They gave a group of protestors until five pm to clear out.  By the end of the day all but four had left.  They were cited for trespassing and released.  The protestors had been there 24-hours a day, 7-days a week for the last three weeks, advocating for more legal campsites for homeless people in Eugene.
The protest and even the tents weren't a problem say officials.  It was ultimately the public health hazard raised by many of the protestors urinating and defecating in the plaza.  Board chair Sid Leiken said the commission's job was to balance the rights of the community to share their views against what is – quote – "clearly impactful of public health and safety."
Commissioner Pete Sorenson was the sole 'no' vote against the closure, citing it as an infringement on free speech.
Governor Calls for Special Session
Governor John Kitzhaber is calling for a special session of the Oregon Legislature.  But that's only if he can round up enough votes to get approval for a combination of pension cuts, personal tax increases and small-business tax cuts.
Kitzhaber has been trying for months to reach a deal that would raise additional tax revenue to boost funding for schools and mental health treatment, while lowering the costs of public-employee pensions.  He says a "solution is within reach", but it only makes sense to call the legislature into session if lawmakers are willing to act.
Central Oregon Republican Representative Mike McLane supported the special session and said he's willing to work on finding a bi-partisan solution to fixing PERS.   House Speaker Tina Kotek, a Democrat, echoed the sentiment and said the legislature had some "unfinished business" when it comes to increasing funding for education.
Speed Calls
There'll be more than just cars on display during this weekend's annual Rods and Rhodies classic car show in Old Town Florence.  There'll be some speed involved as well.
That will come in the form of Pinewood Derby cars that will be racing from ten to two Saturday.  Local scouts will have their Pinewood Derby track set up in the middle of Bay Street at Nopal at the west end of the Boardwalk.  Anyone can bring a derby car to race for a $5 entry fee.
Details on this weekend's Rods and Rhodies Classic Car Show and the community garage sale can be found in a special section of yesterday's Siuslaw News.
Weather Warnings
A deep upper level low pressure system offshore will be moving through the area over the next few days, bringing with it more rain showers and isolated thunderstorms.  Weather forecasters with the National Weather Service are saying the system will also likely bring heavier rain showers later today and overnight over parts of northwest Oregon.
The heaviest rainfall will occur in the Cascades and in the northern Coast Range, but interior valleys and foothills could get localized rainfall in excess of one inch.