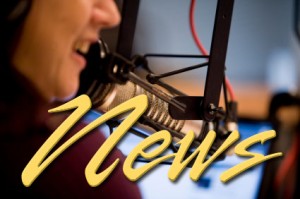 Lots of Wind and Rain
Wind gusts in excess of 60 miles an hour were recorded at the North Jetty of the Siuslaw River over the weekend.  At Mary's Peak in the Coast Range the highest gust recorded was 81 miles an hour, and one weather station on Siltcoos Lake recorded more than 14 inches of rain between noon Friday and Monday morning.
The season's first severe storm delivered as anticipated, bringing record rainfall, several downed trees and sporadic power outages to the Central Oregon Coast.
No significant damage, though, was reported.
Highway 101 just north of Gardiner was closed briefly Saturday and Sunday afternoons because of falling trees and hazardous conditions.
One way traffic, guided by pilot cars, was allowed both days for several hours at a time.
Forecasters are calling for more rain today, but winds aren't expected to be as active.  They're also saying we could have a little sunshine by the middle of the week.
Friday Night Crash Claims Life of Washington Woman
Highway 101 near the Lane-Douglas County line was closed for several hours Friday night as police investigated a fatal crash.
Oregon State Police say a 23-year old Washington State woman was killed when her northbound Chevrolet Spark electric vehicle crossed the centerline and struck a southbound Dodge Ram Pickup.  Authorities say Brittany D. Alexander was wearing safety restraints, but died at the scene.
The pickup's driver, 52-year old Guillermo Luis Trujillo of Happy Valley was not injured.  Two children in the pickup were transported to Peace Harbor Medical Center with minor injuries.    An adult female and two other children were not injured.
The crash occurred just after eight pm Friday night, blocking traffic entirely for about two hours.  The roadway was reopened to two-way traffic about five hours after the crash.
Emergency Transmitter Put Into Action
KCST's primary transmitter on top of Translator Hill south of Florence was knocked off the air late Sunday afternoon by a power surge.
The incident caused the first activation of a recently installed emergency transmitter at the in-town studio.
Coast Broadcasting General Manager Jon Thompson said primary power went out on top of the hill late Sunday afternoon, damaging the main transmitter.  The emergency power generator worked properly, but the main transmitter was not operable.  KCST was off the air briefly, and when it returned it was transmitting from an emergency transmitter at the main studio that was recently installed.
Thompson said the incident was a good 'test' for the equipment.
The main transmitter was back on the air by 11:45 Monday morning.