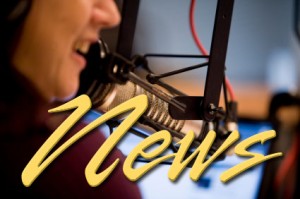 27 November 2014
Giving Thanks Pound for Pound
The plight of others who may not have as much is on the mind of Cindy Wobbe. She and her husband Gene have been successful; each with their own business.
Cindy Wobbe – "But, I'm keenly aware that there are many people in our community who struggle with putting food on the table, who struggle with providing nutritional meals for their families. And so, for us to be able to make such a substantial dent, I guess, in the need in our community in a short period of time is something that I'm… I'm humbled by the community's response and Gene and I are just very thankful that we're at a place in our lives where we can give back in a meaningful way."
For the 14th year in a row, Cindy Wobbe hosted a "pounding" to benefit Florence Food Share. Last week's event netted just under 82-hundred pounds of food. But, she wants to put it into perspective.
Cindy Wobbe – "Food share gives out about 50,000 pounds of food a month, so 8-thousand pounds of food goes very quickly. But the types of foods that we collected; people really were thoughtful in their purchases. They purchased food that was nutritionally rich. Tuna, peanut butter, fruits and vegetables. We had a lot of hams and turkeys. The food the people will be getting as a result of the pounding is going to go far and it's going to provide nutritionally rich meals for folks."
Most of last week's collections have already been distributed to hungry families. That's one reason why Wobbe will match the donations, pound-for-pound. She spreads it out over the entire year, filling short term needs and providing fresh produce.
Fill up in Florence
If this morning is 'getaway' and you're headed out for Thanksgiving, it may be a good idea to fill up your gas tank before leaving town.
Florence's average cash price for a gallon of regular gasoline held steady this week at $2.91.
That's 16-cents a gallon than the average price for the entire state of Oregon and only three cents higher than the national average price as measured by Triple-A.
Depending on where you're going in Oregon, the average price may vary. In Eugene, Medford and Portland this week it's $3.01… Prices in the Salem area are slightly higher… on average you'll pay $3.02 a gallon there.
Community Giving Thanks
Dozens of volunteers spent yesterday preparing a free thanksgiving dinner that will be served to as many as 500 people today.
From noon until two at the Florence Elks Lodge, Kiwanis members, their family and friends will dish up turkey, stuffing, mashed potatoes and gravy… and pie.
Organizers have expanded the available seating this year… and made changes to the serving line to alleviate some of the lengthy delays that people faced last year.
The dinner is free, but cash donations will be accepted to offset the costs… and non-perishable food donations are encouraged. Those will be donated directly to Florence Food Share.
Free transportation for those inside city limits can be arranged by calling River Cities Taxi.
Crabbers and wholesalers settle on price
The whole price paid by seafood companies for fresh, live Dungeness Crab has been set and that means crab fishermen have only to worry about the weather when it comes to hauling in the first catch of the season.
Crabbers and processors negotiated an opening price of $3.10 a pound… slightly higher than last year's opening price. Pots can begin being laid tomorrow, but can't be pulled until Monday.
Dungeness is the most valuable commercial fishery on the Oregon Coast; last year's landings exceeded 14.4-million pounds; valued at more than $50-million.
Early indications show the crab have plenty of meat and this year's fishery should be on par with last year.
Holiday Lights at Shore Acres
You've had your dinner, the kids are in town, and you're looking for something to do.
The 28th annual Holiday Lights exhibit opened at 4:30 this afternoon at Shore Acres State Park, just west of Charleston in Coos County.
The botanical garden at the park is open nightly until 9:30 pm beginning today and running through New Year's Eve.
More than 300-thousand lights decorate the vegetation and landscape features in the garden; and the gardener's house is open with hot cider and cookies.
The display is free, but an Oregon State Parks Day-Use fee is required to access the park.