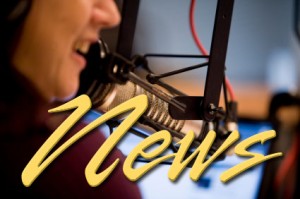 5 March 2015
Fire Department Planning Gets Public Input
The strategic planning process for Siuslaw Valley Fire and Rescue got some input from members of the public this week. Fire Chief Jim Langborg said 18 people, from different segments of the community, met with department leaders and a facilitator earlier this week. They talked about what they felt the fire district's priorities should be.
Jim Langborg – "Their number one, obviously was fire suppression. Get there quick and put the fire out. They put a lot of emphasis on us being transparent and fiscally responsibility. You know we… they're happy that we're not at our max millage rate."
They also talked about challenges in meeting the district's mission; including the number one according to Langborg.
Jim Langborg – "Recruiting and retaining volunteers. Obviously that's a concern for them because our budget just cannot support full time volunteers 24-7."

The chief said full time department employees spent the day yesterday going over what they heard Tuesday night. The next step is to involve volunteers in helping formulate the final plan.
Not guilty plea entered in death of 6-year old
A woman charged with throwing her 6-year old autistic son to his death off the Yaquina Bay Bridge in Newport last November has pleaded not guilty to murder charges.
Defense lawyers entered the plea on behalf of Jillian McCabe Monday in Lincoln County Circuit Court in Newport. McCabe is charged with aggravated murder, murder and manslaughter.
Her arraignment had been delayed pending a mental health evaluation.
Police say McCabe called 911 November 3rd and reported throwing her son, London, from the bridge. Searchers found the boy's body hours later.
Relatives and friends say McCabe struggled with mental illness and had trouble caring for her son and her husband Matt, who was diagnosed with multiple sclerosis.
Trial is scheduled for August 23rd, 2016.
Events Center food service applications sought

Proposals are now being accepted for potential caterers at the Florence Events Center. Beginning April 1st, the center will begin operating with a list of 'preapproved' caterers, all with access to providing services at the center.
That's a change from the prior policy at the center. Since it opened in 1996 it has operated with an exclusive contract with a single catering company. There have been two in that time.
The City Council, acting at the request of the FEC staff, approved the change earlier this year.
Details on how to apply for the catering list, along with a sample contract, can be found at the Florence Events Center website under the "community" tab. Applications are due no later than March 19th.
60s peace movement roots in 40s Oregon Coast
The author of a book about how the radical peace movement of the 1960s may have got its start in the blue-collar confines of the Central Oregon Coast will talk about his research next week at Cape Perpetua Visitor's Center.
Steve McQuiddy's book, "Here on the Edge" chronicles life in the Civilian Public Service Camp number 56. Also known as Camp Angell, just south of Waldport, it is now a Job Corps camp; but from 1942 and into 1946 it was a work camp for conscientious objectors to World War II. About 120 objectors who refused to enter the military spent their days on the Oregon Coast planting trees, crushing rock and building roads.
At night and on weekends they produced books, plays, art and music.
After the war, many of the camp members went on to influence other cultural currents which eventually led to the radical peace movements of the 60s.
McQuiddy will talk "Here on the Edge" next Saturday, March 14th, two pm at Cape Perpetua.
Local economic development efforts to focus on what's here
When Florence Mayor Joe Henry says he wants to change things up in Florence, he means he believes City Hall should be more active in helping local businesses prosper. One way is by involving more community members in finding ways to do that.
Joe Henry – "We're going to invite 25 or 30 people, and it'll be sometime toward the end of March I believe. We're going to try to provide them with an outline of what we're trying to accomplish, but it's really a fact finding mission."
But for Henry, it's not just about holding meetings and creating a "vision" for the future. That's been done before and previous officials haven't followed through. He and other elected officials are now looking back at some of that work before and putting some of it into action.
Joe Henry  – "The downtown revitalization team that's just recently got approval from the council to help improve the signage and direct people to old town and help improve the 101 corridor. That's just the first step. That's something that was talked about ten years ago. It came to the council last year and got voted down."
Economic development efforts on the part of the city, he says, won't simply be about focusing on bringing in new businesses, but more on helping the ones that are already here grow and prosper.
A legacy of woodworking on display at 19th Home and Garden Show
Mike Wilbur started building outdoor furniture when he was in the seventh grade. He worked part time for Paddock and Bower Nursery in Springfield through high school, building garden swings and patio furniture.
He never outgrew the love of working with wood. Throughout his career with the Oregon Department of Transportation, Wilbur continued to build gliders, Adirondacks, and planters, selling them on the side. When he retired in 2008, he turned it into a second career.
MJ Custom Woodworking is just one of the 41 different exhibitors who will be displaying their wares at this weekend's 19th Florence Home and Garden Show.
The doors open Friday afternoon, the show runs through Sunday at the Florence Events Center.