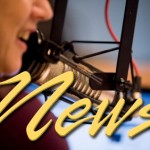 14 April 2015
Disaster Planning Efforts Gather Outside Response Info
Another step in refreshing the area's disaster management plan came together yesterday in Florence. It was a "Disaster Response Forum" at Siuslaw Valley Fire and Rescue. It featured representatives of several different outside agencies. They spoke about what their agency's response would be in the event of a disaster like a tsunami or large storm. Consultant Stacie Burr said the speaker list was large.
Stacie Burr – "We have Oregon Emergency Management here, we have Oregon Public Health here. We have the Oregon Medical Examiner for fatality management. We also have the Oregon State Police, the law enforcement section of it; we also have the military."
Even larger was the list of attendees. Burr said they came from up and down the coast.
Stacie Burr – "We have people from Tillamook and Astoria, and we have people all the way down to Coos Bay and Bandon."
Yesterday's forum also featured a demonstration of emergency shelters erected by an outside contractor, Northwest Shelter.
Florence man facing sex abuse charges
A Florence man and his wife are facing a variety of charges following an investigation by the Oregon Department of Justice Medicaid Fraud Unit. Christopher Scott Branson has been arraigned on three counts of Sexual Abuse in the Third Degree. His wife, Lorraine Rodriguez Carr is facing a charge of criminal mistreatment and two counts of falsifying business records. Both worked at a senior care facility outside Florence operated by Branson's parents. Chris Branson is accused of sexually abusing a female client under their care last year. His father, Jerry Branson, plead guilty to one count of criminal mistreatment last week for withholding pain medication from the same patient. The younger Branson and Carr will be in Court April 22nd.
Senior Assistant Attorney General Jodie Bureta said due to privacy constraints she could not disclose the name nor the condition of the victim.
Shred day for your financial papers
Now that your taxes are almost done, you can think about getting rid of some of that excess financial paperwork. Oregon Pacific Bank will help out with that as they have for the past seven years.
This Saturday, between 11 and 2, or until the truck is filled up, OPB will be accepting confidential paper materials in their parking lot. The papers will be dumped into a huge truck where it will be shredded on site.
Bank spokesperson Ellen Huntingdon says it's a very good way to help deter identity theft and to properly dispose of paper waste. Huntingdon added all of the paper will be recycled.
The Oregon Pacific Bank Relay for Life Team will be on hand during the event, washing cars as a fund raiser for their team.
Cleaning up a gateway
One of the city's gateways got a facelift Saturday morning. Several members and friends of the Florence Kiwanis teamed up with members of the Rhododendron Festival Senior Courts to clean up the planter strip along the south edge of Highway 126 where it intersects with Highway 101.
About 30-people spent three hours spreading eight yards of bark and six tons of rock. They hauled away a pickup truck load of prunings and weeds.
It was the Senior Courts' "Legacy Project", according to Cindy Wobbe. She oversaw the royal work.
Joyce and Wilbur Ternyik installed the planting several years ago and maintained it up until 2013. They demonstrated to volunteers how best to prune the pines, azaleas and rhododendrons.
Florence Kiwanis adopted the section that is officially part of Florence's park system.