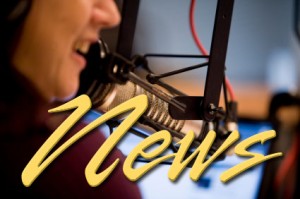 14 May 2015
Tuesday is election day

Today is the last day you can mail your ballot for next week's election and be assured it will arrive at the Lane County Elections Department in time to be counted.
All ballots must be returned no later than eight PM Tuesday and postmarks don't count.
There are alternatives however.
In Western Lane County, the ballot drop box in front of the Florence Justice Center will remain open until the 8 PM Tuesday deadline. You can also deliver it directly to the elections office in Eugene prior to that time.
Lane County Clerk Cheryl Betschart says to make sure you sign the ballot envelope that lists your own printed name and address. If you have any questions prior to casting your ballot, she says to call her office. Once your ballot is cast, there is no way to retrieve it.
As of yesterday afternoon only about 40-thousand of the 208-thousand mailed ballots had been returned.
Let's Rock and Rhody

The Davis Carnival is in town and that means the annual Rhododendron Festival is gearing up for this weekend. Chamber of Commerce Executive Director Cal Applebee says there are plenty of parade entries… and special vendors.
Cal Applebee – "We've got over 80 parade entries. We've got two dozen vendors down on Maple Street; almost a dozen up on Highway 101."
They are still looking for volunteers to fill a traditional role for the Grand Floral Parade.
Cal Applebee – "We are still looking for young kids, nine to 16, to serve as volunteers for the parade on Sunday to serve as pooper scoopers and banner carriers."
Each of those volunteers get a free pass to the Davis Carnival on Sunday following the parade. More information on how to sign up can be had at the chamber Visitor Center.
Drivers pay more than last month, but less than last year

The statewide average price for a gallon of regular gasoline hit the three dollar mark this week. But, locally, it's still considerably less. Drivers in Florence are paying an average cash price of $2.85 a gallon.
Marie Dodds with Triple-A of Oregon says even with increases over the past two weeks, Oregonians are still paying about a dollar a gallon less on average than last year at this time.
She added refinery issues in California, along with increased demand, are combining to keep prices higher on the west coast. In fact, California has the highest average price, followed by Hawaii, Nevada, Alaska and Oregon.
On the other side of the country, South Carolina has the lowest average price at $2.37 a gallon.
National Police Week
Blue ribbons are wrapped around utility poles, street signs, trees and just about anything else that doesn't move along Ninth Street today.
Family members and friends of police officers put up the ribbons to mark National Police Week.
Supporters of police throughout the community are also displaying their support with ribbons and blue balloons.
The week culminates tomorrow during Peace Officers Memorial Day. Flags will be flying at half-staff in memory of the 44 officers who have fallen in the line of duty so far this year, including Coos County Deputy Sheriff Gil Datan who died last month while patrolling a forested area on his ATV.
According to the National Law Enforcement Officers Memorial Fund there were 117 line-of-duty deaths in 2014.
Siuslaw Education Foundation gets thumbs up
A new non-profit foundation is being formed in the area that will eventually help Siuslaw and Mapleton schools financially.
The Siuslaw Education Foundation is coming together as the result of efforts spear headed by Siuslaw School Board member Suzanne Mann-Heintz.
The Siuslaw board agreed last night to work with the new foundation. Mapleton School board members are expected to signal their approval next month.
Mann-Heintz said they are in the process of forming the non-profit corporation and seeking Federal 501-c-3 tax exempt status. She said once it's up and running, the foundation will be eligible to apply for a number of grants on behalf of both districts. They'll be able to collect donations and eventually set up an endowment fund.
Let's Rock and Rhody
She may be country, but she's also a little bit rock and roll and that's why the Florence Area Chamber of Commerce has selected Amy Clawson as the Grand Marshal of this week's 108th Grand Floral Parade of the Rhododendron Festival.
The theme of this year's festival is "Let's Rock and Rhody".
Clawson will preside of Sunday's parade, along with Queen Rhododendra CVIII (108) Kennedy Roylance and King of the Coast Keoni Castro.
Clawson may be petite, but she packs a lot of power in her performances. She's appeared on stage along with the likes of Toby Keith, Neal McCoy, Martina McBride, and most recently, Pam Tillis. Since 2008 she and her band, Coltrane, have served as "artist ambassadors" for Bi-Mart and the Willamette Country Music Festival in Brownsville.