06 July 2015

A great weekend for Florence
The thick fog bank that rolled up the Siuslaw River Saturday evening didn't obscure the fact that the Fourth of July in Florence was a big one. Cal Applebee is the Executive Director of the Florence Area Chamber of Commerce:
Cal Applebee – "Holiday weekend was phenomenal this year. We had so many things going on all over Florence, including the museum opening, all of the activities down in Old Town with the music addition. The Fly-In, with the excellent weather, I mean, the airport crowd was huge, just constant stream of people. It was a great weekend for Florence."
Despite the fog, Applebee said there was no question of cancelling or delaying the show. For those closest, it was still visible, but many left disappointed.
He added the weather wound up being a – quote – "tradeoff". The same weather pattern that was responsible for the fog, also provided the warm temperatures, sunshine, and no wind during the day.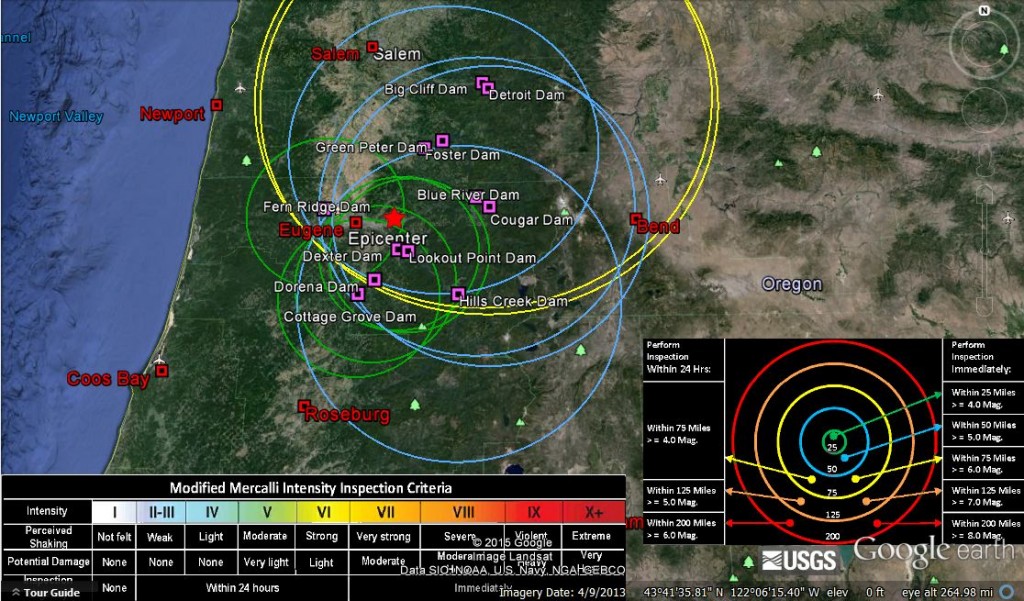 Lane County rocks with a 4.2
The Fourth of July started with a little 'rock and roll' in Lane County. A magnitude 4.2 quake was recorded 8 ½ miles east of Springfield just after 8:30 AM. No damage was reported.
A few people in the upper Willamette and McKenzie watersheds reported feeling the quake. Firefighters in Eugene and Springfield made neighborhood tours to make sure there was no damage.
As a precaution, the U.S. Army Corps of Engineers immediately initiated inspections at a number of dams in the area, but no problems were reported.
Power of Florence
The City of Florence has listed some parks projects that need volunteers to help out during the July 18th Power of Florence day.
Nine different community service projects have been added to the already more than two dozen listed on the Power of Florence website.
Three of the nine already have groups signed up to help out… that's Florence Christian Church at Miller Park; Boys Scouts at Munsel Lake Road Park; and Delta Gamma Sorority at Rolling Dunes.
Other projects still needing volunteers include those at the Old Town Gazebo; Veteran's Park; Florence Senior Center; Pepperoaks; Gallagher Park; and Singing Pines Dog Park.
For a complete list of projects and information on how you can volunteer, you can go to the Power of FlOreNcE website.
Volunteer sought to help find firefighting funds
Siuslaw Valley Fire and Rescue is seeking a different sort of volunteer. Chief Jim Langborg says they would like to find someone to assist the agency in locating, securing and administering grants.
He said the volunteer grant writer would be part of the "Fire Corps volunteer program" that offers non-firefighting positions to interested community members.
Langborg is looking someone with experience in federal, state and private grant funding. Applications for the position are available at Siuslaw Valley Fire and Rescue.
Rhody rebuild bids below expectations
The Florence City Council is expected to award a contract for rebuilding one of the city's worst stretches of street. They'll take formal action on the bid this evening.
Rhododendron Drive between Ninth Street and the Wildwinds Subdivision is roughly three-quarters of a mile of potholes, rutted pavement and deterioration. The project will involve complete reconstruction of part of the road, and installation of a "geo-textile" fabric beneath the entire two-inch pavement layer. That's intended to help prevent future cracking.
According to a report to the City Council submitted by public works director Mike Miller, the engineer's estimate was just under $300-thousand for the project. Bids ranged from a high of 2-99 to the bid submitted by Wildish Construction of $205-thousand.
Work could begin as early as August.
A separate project to expand the shoulders and create bike and walking lanes through that same area will likely begin next spring.
The City Council meets Monday evening, six o'clock.