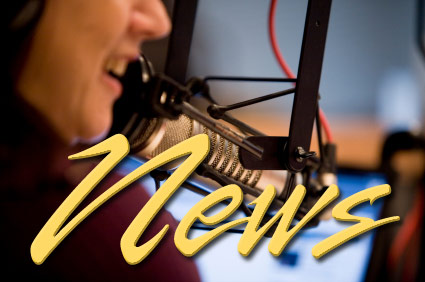 13 August 2013
Relay Results Mixed
The amount of money raised at the American Cancer Society Relay for Life in Florence is short of their announced goal, but the books are still open and organizers say they're hopeful they'll get closer to their original target of $95,500.
Florence Relay Co-Chair Karen Earnshaw confirmed the number announced during the closing ceremonies Saturday was around $72,000.  But, she said, that figure was "after expenses".  Estimates put the gross take for the 24-hour event at just under $80-thousand.
Earnshaw said the damp weather may have kept some people away, but for the most enthusiastic supporters of the Cancer Society, it was only a minor inconvenience.
Indeed, her co-chair and husband, Steve Earnshaw, noted the drizzle Friday morning before the relay began and said it paled in comparison to the struggles of cancer victims and their families.
Karen Earnshaw said the Florence results are actually better than many other events that have been falling between 18 and 23 percent short of their goals…
New Direction at Oregon Pacific Bank
Oregon Pacific Bank shopped local and opted to go "Green".  Bank Board chairman Bob King announced yesterday that Ron Green, an OPB Executive Vice President and the Bank's Chief Credit Officer, will step up and assume the role of Chief Executive Officer.  He replaces the former CEO Jim Clark.
Green has been a resident of Florence since he was hired by Oregon Pacific in 2007.  Bank employees were notified at branch meetings first thing Monday morning.
OPB has four banking branches; two in Florence; one each in Coos Bay and Roseburg.  The bank recently expanded its trust department with the acquisition of a Medford-area company.
North Florence Development
The initial approval for the Cannery Station was granted about five years ago.  Since then, economic conditions have delayed the 40+ acre development but it appears to be back on track and moving forward once again.
But officials say don't expect ground-breaking any time soon.
The Florence Planning Commission is expected to grant final approval tonight for phase 1 of the project.
It's actually several buildings that will provide nearly ten-thousand square feet of commercial space and about 100 senior and assisted living residential units on the east side of Highway 101 across from Fred Meyer.
Planning Commissioners will review a list of conditions on the approval that include things like a fence separating Cannery Station from the neighboring Florentine Estates; and requirements on street improvements and access.
The Planning Commission meets at seven pm at City Hall.
Cause for the Paws
Phoebe the piano playing Jack Russell Terrier will be the special guest next week during the "Cause for the Paws" at Spruce Point Assisted Living.
It's a beauty pageant of sorts.
Rachel Kilfoy is the Community Relations Director at Spruce Point.  She says the show is open to anybody and their dog… but mostly for the dogs.  Categories include "best wag", "best smile", "best costume" and the "most unique tail".
The entry fee is $5 or a bag of dog food… or both… and all will go to the Florence Area Humane Society.
The show is set for next Tuesday, August 20th from one to three… you can pre-register your dog by calling Kilfoy at Spruce Point… or just show up with your best friend that afternoon.