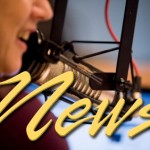 30 January 2014
St Vincent de Paul Head Honored in Eugene…
The man who heads an organization with several retail outlets, including one in Florence; about 11-hundred units of affordable housing, of which there are about 50 locally; and provides 84-thousand people each year with emergency aid and assistance was honored last night as Eugene's First Citizen.
Terry McDonald, the Executive Director of St. Vincent de Paul's of Lane County for 30 years, spoke in Florence yesterday prior to accepting his award.  When he took over the agency, they were serving about 5,000 people each year, but McDonald saw three ways to increase their reach.
Terry McDonald – "Economic development, housing, and emergency services.  We needed jobs, we needed stable housing and we definitely needed to have a more robust social services than we had back in the 80s."
St. Vincent's did it by stepping up recycling and remanufacturing efforts, allowing them to increase the number of jobs from 27 to 500.  McDonald said all employees make good wages and get benefits.  Another benefit… diverting 90 tons of refuse a day away from landfills and into his recycling centers.
Rotary Honors Auction Donor and Buyer
For more than 50 years the Florence Rotary Club has used their annual benefit auction to raise money for scholarships and community projects.  They've  brought in hundreds of thousands of dollars just in the past few years.
This year's auction is in March and the club recently honored the top spender and donor from last year.
The Siuslaw News publisher John Bartlett was singled out as the top donor with a package valued at $45-hundred.  It brought in $2750.
Dr. Justin Linton with the Florence Dental Clinic was honored as the top spender.  Organizers didn't say how much Linton spent, but they thought highly enough of the amount to give him four free tickets to this year's auction, and provide a chauffeur driven limousine to get his guests and him there and back.
Bartlett and Linton may have been singled out, but auction chair Bobbi Brubaker said they are "grateful for every donor, every bidder, and all the Rotarians" and friends who work hard each year.
PERS Unfunded Liability Cut
Strong investment returns and last year's cuts to public-employee retirement benefits have helped cut the Oregon pension system's unfunded liability in half.  That will sharply reduce the amount of money that local governments will have to set aside to meet that liability.
Public Employees Retirement System director Paul Cleary said this week the unfunded liability dropped from $16.3 billion at the end of 2011 to $8.1 billion at the end of last year.
The Oregonian reports that the pension fund now has 87 cents in assets for every dollar of liabilities.
Actuaries say benefit cuts last year shaved $5 billion off the unfunded liability and strong returns over the past two years made up the difference.
CMP Draws Fire on South Coast
South Coast anglers are opposed to a plan by state fish-and-wildlife managers that officials say is intended to balance the needs of sportsmen with wild fish conservation.
A meeting in Coos bay this week drew about 100 people to weigh-in on a proposal to shift releases of hatchery fish in the Coos, Coquille and Elk River systems. The issue is the Coastal Multi-Species Management Plan, or CMP.
Managers say the changes are needed to mitigate the genetic risk posed by hatchery-raised fish. Anglers worry the move will reduce fishing opportunities and hurt tourism.
The Oregon Fish and Wildlife Commission will hold another public meeting in North Bend April 25th before a deciding vote.