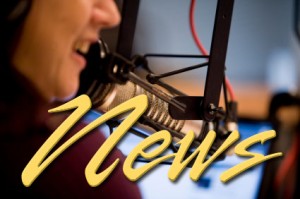 22 December 2014
101 Reopened after Weekend Closure
Highway 101, 12 miles north of Florence has reopened to one lane of traffic. Rick Little with the Oregon Department of Transportation says travelers should expect delays of up to 20 minutes as vehicles will be regulated by flaggers and a pilot car will lead them through the area between Sea Lion Caves and Washburn State Park.
As the weekend weather improves and waters recede, the highway at Heceta Head remains in precarious position because of water damage, an active landslide and a failing retaining wall.
It's in a stretch with sunken grades, erosion and previous landslide damage. A $1.3-million repair project began in September.
The road was closed midday Saturday and traffic was routed through the Willamette Valley. That detour was tricky at times as the main route; highway 20 between Newport and Corvallis was closed overnight because of high water.
Mapleton Flooding
More than eight inches of rain fell in the Coast Range near Mapleton over the weekend, causing flooding in low lying areas and traffic delays.
Several homes along River View Avenue in Mapleton were surrounded by water by Saturday night. No serious damage was reported as residents had ample warning to move possessions and vehicles out of harm's way.
Flood warnings were publicized beginning Friday and the Siuslaw River began rising early Saturday, reaching flood stage by mid-morning. It continued to climb rapidly over the next 18 hours before peaking at 22.8 feet around 3 AM Sunday.
The peak remained above 22 feet until mid-morning yesterday, then fell steadily, but remains above flood stage this morning.
126 Submerged at High Tides
Drivers on Highway 126 were greeted with high water at Cushman, under the railroad bridge at different times over the weekend. High midday tides on Saturday and Sunday backed water up to a depth of more than one-foot for several hours on both days.
Police reported some vehicles with low clearance were disabled, causing traffic tieups in the area.
The flooding on the roadway subsided by late afternoon Saturday and Sunday as the tide fell.
This morning's high tide is expected to leave water across the roadway in that area once again at midday today.
Up to date information on road conditions can be found at tripcheck.com.
Portland Pipe-Bomb Suspect Arrested
Portland Police arrested a Tillamook County man on charges he eluded police officers there by throwing four pipe-bombs from his car as he fled last week. The bombs did not detonate.
43-year old Neal Panschow was arrested in northeast Portland yesterday afternoon following a tip.
Panschow is also considered to be a person of interest in two pipe bomb episodes in Florence. The first was September 17th when a woman walking her dog discovered an explosive device just off 22nd street near Coastal Veterinary Clinic. That bomb wound up being placed in a police vehicle by an auxiliary volunteer and driven to the Florence Justice Center, forcing closure of that facility for several hours until bomb squad members from Eugene could respond and remove it.
The second bomb exploded, but did not cause any damage. Remains of both devices were sent to the Oregon State Crime Lab.