15 May 2015
Volunteer Jim Archer, three state championship teams and six former students on the list.

Seven individuals and three state championships teams will be inducted into the Siuslaw High School Hall of Fame this summer. The fourth round of inductees include the 1988 Cheer Team and the 93 and 94 boys golf teams.
Student athletes include John LaDuke who won back to back state championships in the broad jump in 1959 and 60. Ron Bly was a state champion wrestler in 1965 and Rich Prater was on the 1981 championship football team. Prater was named 1st team All-State lineman.
Susan Emery was a three sport standout for the Vikings in 1987; Sherri Stapleton was the state 2A Player of the year in basketball and a member of the 1988 state championship team that was inducted last year.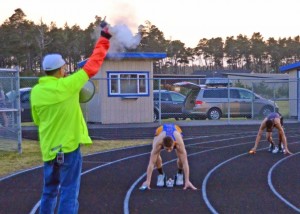 Collin Cram was 1st team all-state in football in 2003 and the state 4A pole vault champion in 2004. He was also the single highest point scorer at the 2004 state meet.
The final inductee: Jim Archer. He'sbeen actively involved in promoting, volunteering and fund raising for Siuslaw Cross Country and Track and Field teams.
This year's Siuslaw Hall of Fame induction will be Friday, July 31st at the Florence Events Center.
Far West baseball, softball and track wrap up this weekend
The Far West League baseball and softball schedules wrap up today for the Siuslaw Vikings. Softball will be in North Bend for two games against the Bulldogs. Baseball will be in Florence. All games start at three. The pregame show for baseball will be on KCST at 2:45.
Viking Track and Field is in Brookings today and tomorrow for the Far West League district track and field meet. Mapleton Track and Field will be in Finn Rock for the Mountain West District Finals tomorrow.
Pac 12 baseball
On the college diamond today and through the weekend… Oregon State is at Stanford for a three game series. Games tonight and tomorrow are at seven… Sunday the first pitch is at one. All three games will air on KCFM. Oregon is in Salt Lake City against Utah for three games.
Rhody Run enters 37th year
The 37th annual Rhody Run gets underway tomorrow at nine at the Florence Events Center… pre-race registration is open at seven AM.