Taking a look at Coast Radio Sports…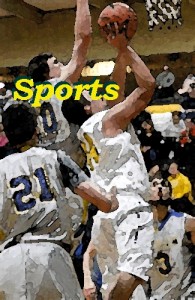 Prep Basketball
Tucker Ford had 13 points and seven steals for the Sailors as Mapleton downed McKenzie 39-29 for a boys' Mountain West League playoff victory last night in Blue River.  The win means the Sailors will face Crow tomorrow night in Crow at eight pm.
There's No Place Like Home For Viking Runner
After a nationwide search, Siuslaw's Mitchell Butler decided there was "no place like home".  The state 4A Cross Country champion made a verbal commitment this week to run indoor and outdoor track, along with cross country at the University of Oregon.  There'll be no scholarship or subsidies in the first year, but he'll have a chance to run himself into some assistance down the road.
His high school coach, Chris Johnson said despite the tough competition he expects Butler to make it.  Especially in cross country where the races are twice as long as in high school… ten kilometers as opposed to five.  Johnson said "that's right up Butler's alley".
Pac-12 Basketball
It's back to the court this evening for the Oregon Ducks.  They'll take on the Washington Huskies at six in Eugene… airtime on Coast Radio Sports is set for 5:30.